This artist has no artworks for sale at this time.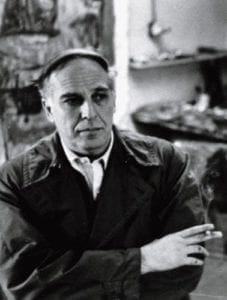 Philip Guston was born in 1913 in Montreal, Canada. He moved to Los Angeles at a young age and eventually enrolled in the Los Angeles Manual Arts High School alongside Jackson Pollock. The two quickly became friends and were expelled after co-authoring an article highly critical of the school. In 1930, Guston was awarded a scholarship to study at the Otis Art Institute, but after three months, felt that the academic environment was oppress
ive and not conducive to his own education. Guston began studying on his own and found early success as a mural painter across the United States and Mexico. In 1936, he moved to New York, initially living with Jackson Pollock and his brother Sanford McCoy before finding a loft on Christopher Street while working on murals commissioned by the Works Progress Administration (WPA). Combining Renaissance architectural elements with a Cubist treatment of space, Guston developed his unique style in the 1940s, leading to a Guggenheim Fellowship in 1947. Two decades later, Guston moved to Woodstock, New York, and began to work in a radically new style of representational painting which involved cartoonish renderings. In May of 1962, the Guggenheim Museum in New York exhibited Guston's first major retrospective of almost 130 paintings and drawings from all periods of his work, from the 1930's onward. Over the next year and a half, the exhibition travels to the Stedelijk Museum, Amsterdam; the Palais des Beaux-Arts, Brussels; the Whitechapel Gallery, London and the Los Angeles County Museum of Art. In 1980, Guston published a series of lithographs with Gemini G.E.L.. That same year, the San Francisco Museum of Modern Art held a major retrospective of his work, with a focus on his most recent work. Three weeks after the opening of the retrospective, Guston passed away at his home in Woodstock.