This artist has no artwork for sale at this time.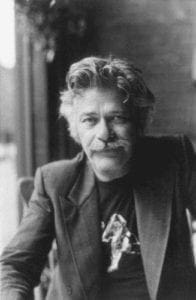 John Chamberlain was born in 1927 in Rochester, Indiana, and grew up mostly in Chicago. Following his service in the United States Navy from 1943 to 1946, Chamberlain attended the Art Institute of Chicago, where he first began making welded steel sculptures. He went on to enroll in Black Mountain College in 1955, where he studied and taught for two years. Chamberlain moved to New York upon graduating and began incorporating old scrap metal
from cars into his sculptures in 1957, causing him to become an almost instant sensation. As a result, he is largely credited with translating the Abstract Expressionist style of painting into three dimensions. Chamberlain's first solo exhibition was held in 1960 at the Martha Jackson Gallery. A year later, his work was included in The Art of Assemblage exhibition at the Museum of Modern Art, New York, and he began showing at Leo Castelli Gallery in 1962. That year, Donald Judd stated that Chamberlain was the greatest sculptor alive under age 40. Later in life, Chamberlain began working with Gordan Novak, a Canadian printmaker and publisher, to create monoprints. His work is represented in many major public collections including Chinati Foundation, Marfa, Texas; Menil Collection, Houston; Solomon R. Guggenheim Museum, New York; Whitney Museum of American Art, New York; Museum Ludwig, Cologne; and Tate Modern, London. He had his first retrospective at the Solomon R. Guggenheim Museum, New York in 1971, followed by more than one hundred solo exhibitions. He also received many honors, including a Lifetime Achievement Award in Contemporary Sculpture from the International Sculpture Center in Washington, D.C., in 1993, and a Distinction in Sculpture Honor from the Sculpture Center in New York in 1999.